BEFA

®

is specialized on manual flame straightening and offers respective trainings.
Our competency: Working on big and thick-walled workpieces on-site
Your advantage: Good technical and economical alternatives to bending press; subscription to auto genetic devices and assets including supplies.
Interested in our offer?
Send us an e-mail. We will shortly get in touch with you.
Contact
BEFA® BERATUNGSSTELLE FÜR AUTOGENTECHNIK GMBH
Mönchstrasse 43
74535 Mainhardt
Phone: 07903 - 94 27 027
Fax: 07903 - 94 27 029
mobil: 0172-7761484
Email: karl.weinberger@befa-autogen.de
We are certified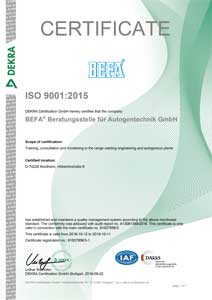 Our certified quality management system to ISO 9001:2015 allows you a transparent and objective assessment of our services.